Shaping the future of global education
Here at EdPlus at ASU, we're game changers and innovators. Our work is at the forefront of what we believe to be the future of global education. Our mission matters because we see the power in education being inclusive, innovative and valuable for everyone.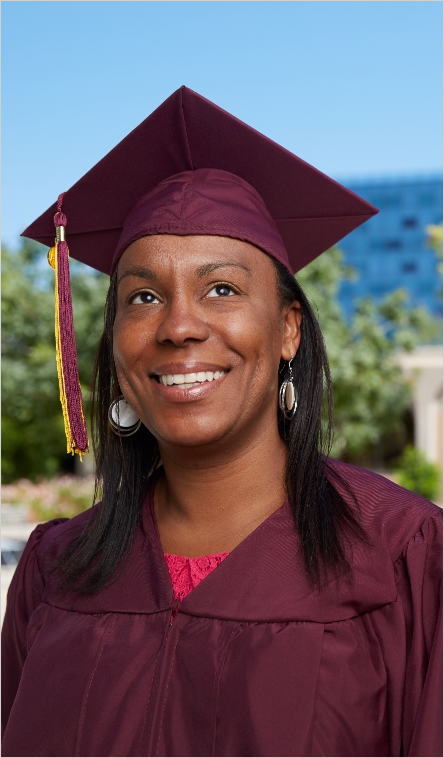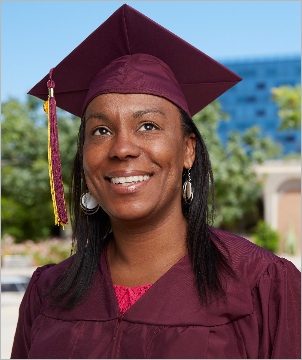 ASU Online
Through ASU Online, students can earn an Arizona State University degree on their own schedule from anywhere in the world. ASU Online offers over 300 online programs taught by the same top-tier faculty who teach on campus.
Students in our online programs follow the same curriculum and get hands-on experience using at-home lab kits, virtual simulations, immersive technology and more. Students have an educational experience like no other with custom-created learning materials and personalized support designed to empower their success.
Building the online portfolio
EdPlus collaborates with the academic units to launch, manage and grow all of ASU Online's degrees and certificate programs.
Market research
Program management
Instructional design and new media
Interfacing with the student journey
EdPlus teams are centered around our students and support every part of the ASU Online journey from generating awareness to enrollment to graduation.
Enrollment center
Re-entry team
Innovating for student success
At EdPlus at ASU, we are committed to bringing value to each and every student, and we recognize that affordability and high-quality programs are priorities for global education. When we invest in partnerships that bring new opportunities and execute ambitious initiatives, we set a new standard of excellence in global education.
Dreamscape
ASU and Dreamscape Immersive teamed up to revolutionize the learning experience through virtual reality. The partnership, Dreamscape Learn, allows students to enter immersive learning activities where they engage in virtual worlds, problem solve and apply what they've learned with the help of cutting-edge technology and captivative storytelling.
Action Lab
The Action Lab is a teaching and learning laboratory in EdPlus. The team conducts research in digital teaching and learning science to gain new insights into students' learning behavior and what drives student success. The results of this research are leveraged to enable continuous improvement in online programs, instructional design and new learning technologies.
MACS Accelerator
The Math, Computer Science and Statistics (MACS) Accelerator is a collection of projects and scalable tools designed to empower students to excel in STEM subjects in middle school and beyond. The initial projects use adaptive learning and assessment tools to personalize learning, give real-time feedback, address learning loss and increase pass rates.
Innovating for access to global education
We believe anyone, anywhere should have the opportunity to advance their education and drive their life forward. That's why we're constantly innovating and partnering with like-minded organizations to find bold new solutions that increase access to education around the world.
Study Hall
Study Hall is a series of YouTube learning playlists featuring the subject matter found in select college 101 courses. Developed through a partnership between EdPlus at ASU, Complexly and YouTube, these videos aim to provide high-quality supplemental education to help all learners master some of the most complex topics taught in introductory college courses. As of 2022, Study Hall hosts 64 episodes covering English composition, algebra, data literacy and chemistry.
learners reached across all ASU Study Hall episodes.
schools across the country using Study Hall videos.
of viewers are outside the U.S.
me3
me3 is an online interactive major and career quiz that students can take to explore their interests, options and future. Students can learn about different majors and careers that fit their passions, making them better prepared to select a degree program.
overall users
Baobab
Baobab is a social learning network developed by ASU. With a unique one-to-many mentorship model, Baobab connects students to tools and resources that support them, achieving impact across sub-Saharan Africa.
course enrollments
Cintana
Cintana is a public benefit company that connects universities to the resources and expertise needed to accomplish their goals. Cintana provides best practices, leadership, strategy and investment, allowing universities worldwide to create new, innovative online offerings.
countries and university partners
BioSpine
Say goodbye to one-size-fits-all education and hello to personalized, dynamic learning through BioSpine. In this adaptive learning biology degree, students complete activities and assessments that adjust to their learning and needs in real time.

students enrolled
MathSpine
An innovative alliance of partners, Cambridge University Press, Gradarius, CogBooks and ASU, are creating a digital student experience that engages learners where they are. With adaptive content and support to fill in learning losses, MathSpineenables student success and places focus on equity, inclusion, accessibility and engagement.
interconnected courses
Orchard
Orchard is an adaptive learning library and learning experience platform. It's a place to create and map personalized experiences without the need for a developer to code complex pathways. Orchard makes it easy to manage, share and collaborate on modular learning content.

adaptive learning platform
Teaming up to form transformational partnerships
A new future for global education can't be created by a single organization. EdPlus at ASU partners with teams across the public and private sectors to disrupt the status quo and put creative new solutions into practice.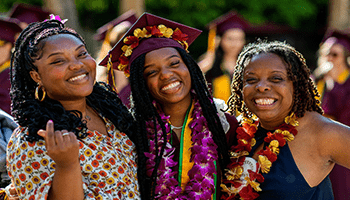 Starbucks College Achievement Plan
The Starbucks College Achievement Plan is a first-of-its-kind partnership that creates an opportunity for all eligible Starbucks partners (employees) to earn their bachelor's degree online through Arizona State University. Our collaboration exemplifies the life-changing outcomes that are possible when two innovative and socially engaged institutions come together to make a difference.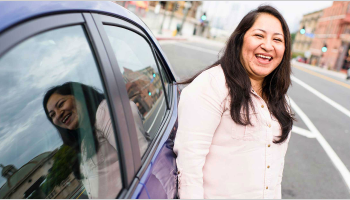 Uber
The partnership between Uber and ASU opens the doors of opportunity by removing barriers to access a high-quality education. Qualifying drivers, couriers, or an eligible family member receive 100% tuition coverage towards an undergraduate degree online at ASU, or towards upskilling courses in English language and entrepreneurship. Through this partnership, technology connects flexible work and flexible education opportunities for learner success.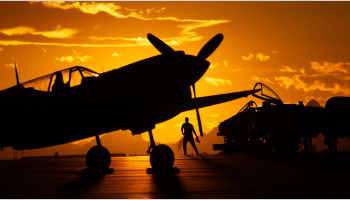 Air University
In 2020, Air University partnered with ASU to transform Air Force officers' online learning experiences. This partnership transitioned the Air University eSchool of Graduate Professional Military Education programs and curriculum to ASU's innovative learning environment, marking the first time a U.S. military service utilized a civilian university partner to deliver these programs.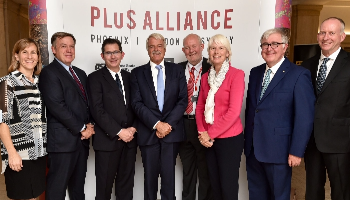 PLuS Alliance
The PLuS Alliance brings together Arizona State University, King's College London and UNSW Sydney to solve global challenges and expand access to higher education worldwide. Students in PLuS Alliance programs take online courses with curriculum, students and faculty from all three universities. Researchers from each university are also collaborating to address global challenges identified in the United Nations' Sustainable Development Goals.