Join Our Team
We believe that there is an ideal learning experience
Let's build it together.
Job Openings
EdPlus at ASU seeks a highly-motivated and articulate Director of Operations to work as a key contributor in a design solutions team comprised of learning designers, technology developers, visual designers, and project managers. As Director of Operations, a typical day in your work life might include: Supervising, hiring, training, and evaluating your team / Working with your direct reports to correct deficiencies and provide recommendations and improvement plants for your staff / Working with department and University administration on the design, assessment and communication of innovative projects in the areas of digital teaching and learning and academic transformation / Assisting in department wide planning and strategy / Managing project milestones and budgets to ensure successful completion of projects within scope and on time / Conducting and assisting with the development and oversight of long- and short-range goals / Assisting with the preparation and coordination of financial and administrative reports; analyzing and interpreting statistics, financial data, and management planning data for predicting resource needs and developing long range plans. / Communicating with key stakeholders at ASU and strategic partners around the globe.
Applications close: March 31, 2017, 3:00pm
We seek a highly-motivated and articulate Digital Marketing Manager to join our high performing team to design, implement and evaluate targeted departmental communication campaigns in support of student retention, persistence and success from initial registration through graduation. The Digital Marketing Manager will work under administrative direction of the leadership from ASU Online Student Success Center and in collaboration with ASU Online Marketing and Communications to leverage insights from marketing software, staff feedback and student focus groups to develop and refine scalable, personalized 1 to 1 and mass communication campaigns in support of overall departmental retention and promotion goals. 
Applications close: April 10, 2017, 3:00pm
EdPlus at ASU is seeking a dynamic Success Coach Lead to join our high-performing team in transforming student support. We empower students to achieve their goals through thoughtful and creative strategies; guiding them to reach their full potential. Through quality conversation and meaningful exploration, coaches focus on goal setting, overcoming obstacles, and achieving success.  The success coaching team works in a supportive and collaborative environment where personal development and growth are the focus.
 
Applications close: April 5, 2017, 3:00pm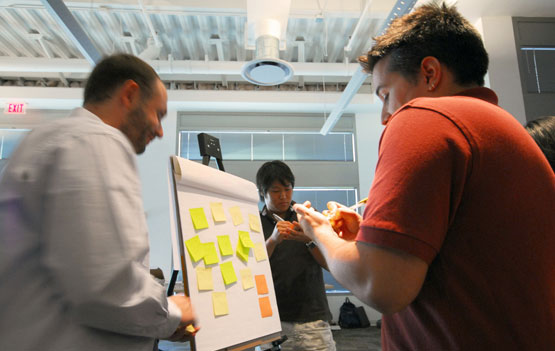 Work that matters
We believe that quality education is central to meaningful social change. At EdPlus, your work will drive projects that empower at-risk populations with access to education and develop tools that improve student outcomes. Our team cultivates a unique brand of online learning through strategic partnerships, leading-edge technology and faculty intensive programs. We don't just talk about how academia needs to adapt; our research and trailblazing initiatives inspire action to better serve today's students.
Be part of a comprehensive knowledge enterprise
Arizona State University is ranked as one of the top 100 research universities in the world. Since 2002, the university's mission has been to create a new model for higher education in the United States, one that meets the challenges of the 21st century. This New American University is measured by who it includes, not who it excludes; pursues research and discovery that benefits the public good; and assumes major responsibility for the economic, social, and cultural vitality and health and well-being of the communities it serves.
The online programs offered by ASU are well respected, and EdPlus is committed to continuously improving the student experience. I enjoy the success stories we receive from students and staff. It reinforces the hard work we put in every day and makes it all worthwhile. There are constant challenges and changes in our work environment, which I sincerely enjoy because there's never a dull moment, and the work we're doing is truly making a positive impact on our society.
Joe Chapman, Director of Student Services
Being part of a team committed to online learning on a global scale is energizing and inspiring. I love that we take risks, try new things, and view almost everything as a work-in-progress that can be improved upon. The intersection of technology, curriculum and learning theory is very exciting!
Jessica Cole, Instructional Designer
Previous
Next